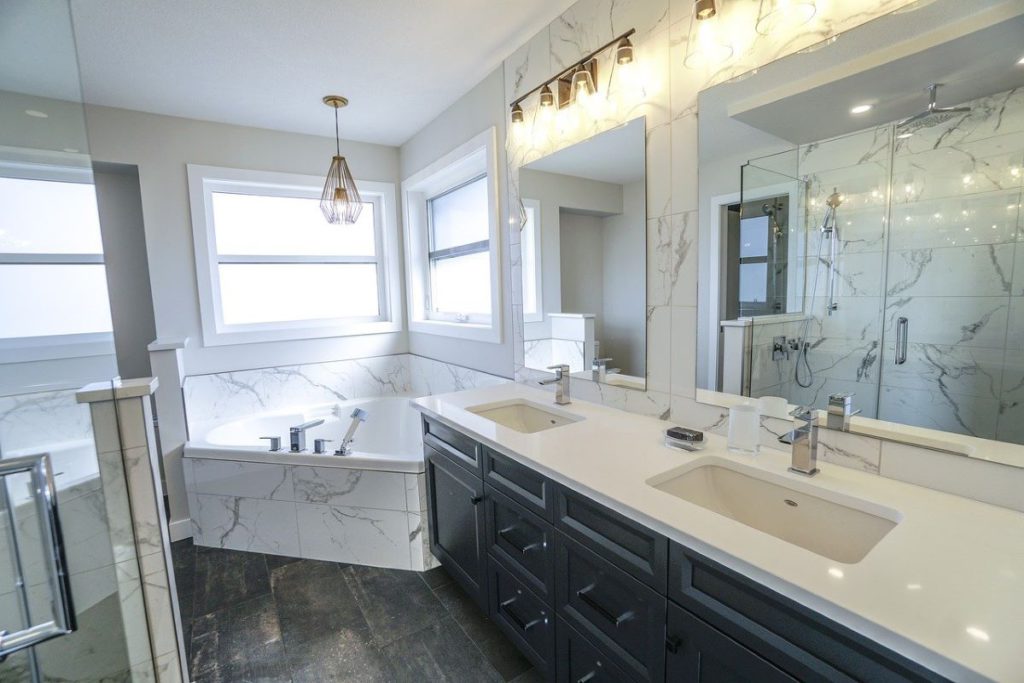 If you are looking for some bathroom design ideas to make a small bath area feel larger or to maximise the use of space, look no further. Here are some great tips to help you design your dream bathroom. It's not all about the budget, but the smart choices that you make when designing and decorating the space can be a game changer.
Start the process by focusing on the colour scheme of your room. Try to pair up dark-coloured walls with metallic accents to bring vibrancy into the space. As the polar opposite of bold, dark shades, you could just go with Scandinavian-inspired bathroom designs to charm you and your guests.
The vibrant yellow ceiling and shower enclosure can make a small-scale bath an absolute focal point, and downlighters and white tiles can make the space feel lighter and brighter. If the compact space has plenty of natural light, then you can incorporate dark, tanned accent colours in the modern style to add more depth to the design. Don't forget – while a white bath set is a better option to open up a smaller space, sometimes it can look a bit bare when the entire room is white. A minimalist-styled bathroom is a great option when dealing with a smaller space.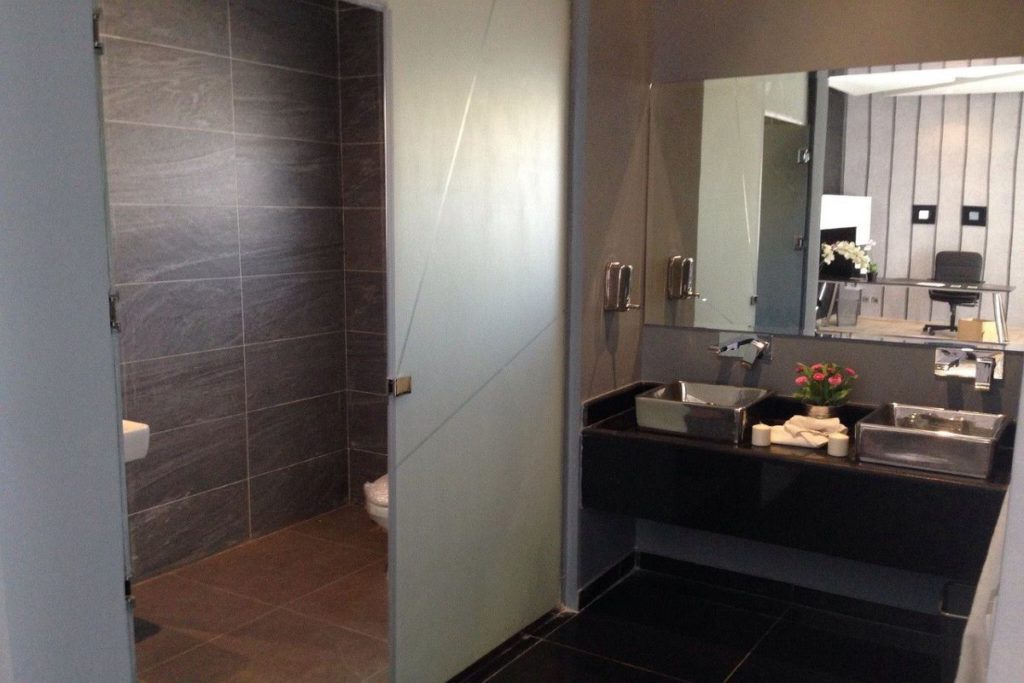 Always keep in mind that having a small space just requires careful planning to create a perfect balance between functionality and aesthetics. A well-thought-out design can pack all of the basics into just two square metres for the bath or even less for a shower. Just plan well and opt for built-in storage units to make the bathroom look compact.
In a tiny bathroom, stick with basics like vanity units and storage shelves, which can either hang from the walls or sit along the side of your bathtub. If you are looking to maximise your small bathroom space, consider replacing the existing vanity with a floating type, or opt for a smaller overall size if you are not going to need every square inch for storage. Vanity mirror storage is a great way to add hidden space, but as a smaller bathroom storage idea, they can sometimes seem bulky and encroaching. An easy, effective way is going for a fixed mirror to help exaggerate the space.
Putting artwork on your walls is also an amazing way to add more personality to the room. To do this, you would have to do some research to find the art piece that lifts the feel of the space and comes under your budget. Having a design inspiration at the stage can help you to select the right products.
The entire process can be time-consuming, and the DIY option might not be the best one for you if you don't have some experience in remodelling the space before. You can take advice from experts; for instance, look online for the best bathroom renovators in Perth and discuss your vision and whether it is possible to bring it to life with the presently available resources. It is better to look more into Perth bathroom renovations and much more to get some idea of what you actually want and then think about how you want to go with it.
Always remember that small things can make a big difference. A fun shower curtain could be a big deal if you are looking to give your bathroom that extra bit of fun or excitement. If you do have a bathtub or shower in the room, be sure to get one made especially for bathrooms that can handle damp, hot conditions.
When floor space is limited, a great way to maximise small bathroom space is by using hung cabinets and an oversized tiled floor. A smaller nice-looking bath can also make the room feel more spacious and welcoming. The only thing that you need to avoid is making the toilet the first thing that people notice entering the room. Add in some indoor plants and accessories that add colour to the room and may give it a spa feel.
Another wonderful way to breathe life into an otherwise boring bathroom is by painting your ceiling and really making it something to stare up at while you are lying in your bathtub.
All in all, designing your bathroom is a process that requires one to think about what they actually want and then make the best choices to help achieve that vision.